Facility Rental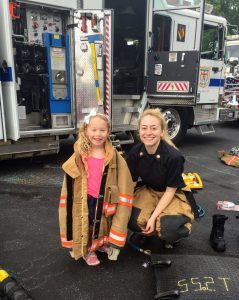 Host your next event
We have two different spaces to rent for your next event! Our event rooms are the perfect location birthday party, meeting, conference, or any other event you'd like to host with us.
Our parking lot accommodates approximately 70 cars, and the Wheaton Metro Station is about a 10 minute walk away.
We are not currently allowing event rentals due to COVID-19.
Green Room / Multipurpose Room
Our "Green Room" is available to host parties, lessons, and meetings. It's great for smaller events and very popular for children's birthday parties. It can be set up with five banquet tables and three serving tables. Maximum occupancy is 49.
Pricing
Children's Birthday Parties
$200 flat fee includes tour of station and apparatus, an age-appropriate demonstration, coloring books, activity kit and plastic fire helmets.
Meetings
$45 per hour. No food service.
Other Events
$125 per hour. 3 hour minimum. Maximum 50 people.
Use of commercial kitchen additional $250 (use by licensed caterer only).
50% refundable security deposit required.
Conference Room
The Conference Room is available for smaller meetings up to 20 people, and is equipped with a projector, power ports, wireless Internet, a conference phone, and bright windows with a view of the neighborhood.
Pricing
$45 per hour. Maximum 12 people.
Ballroom
Our main ballroom is currently unavailable for rentals.