Junior Members
Junior Members
Junior Members
Prospective members between the ages of 14 and 20 can participate in one of two programs designed to learn about emergency medical training, and in some cases, assist on ambulance calls.
First Aid Explorers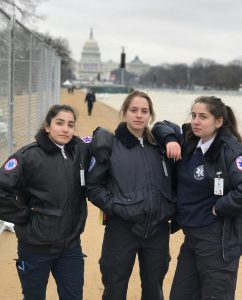 Youth individuals from 14-20 can join the First Aid Unit, who assist in providing stand-by first aid coverage to community and private events. The Unit is designed to introduce young adults to the Emergency Medical Services profession.
Members are required to attend one event, and one meeting per month as a minimum activity level. This is a year-round activity.
Emergency Medical Response training classes are conducted once a year. The course is free, though there is a charge for books. The training is about 120 hours, conducted on Sundays for about 4 months. No previous training is required.
The First Aid Unit is recommended for all young individuals looking to be introduced to emergency response, especially if you might be interested in a future career in medicine, emergency management, or similar.
Contact the FAU at mcfau@wvrs.org
Cadet Members
If you are age 16 or 17, you are eligible to join WVRS as a Cadet member. As a Cadet member, you have the opportunity to assist on ambulance calls by lifting and moving patients, taking vital signs, and carrying equipment. Cadet members are fully expected to take an intensive EMT class and carry on to be a fully functioning Charge EMT at WVRS once they turn 18.
This is a very large time commitment, far beyond an after school activity, and therefore we recommend that you review the Requirements of joining as a member first. Cadet members have the same duty requirements and full expectations as Active adult members, with the only change being on school nights they are allowed to leave at 10pm.
If you are a college-bound high school senior, you must have existing plans to attend college within 30 miles of WVRS, and continue to participate as an Active WVRS member through college. Otherwise, we ask you defer submitting your application until after college. If you are not planning to attend college, we prefer that you know you will be in the area for at least the next several years, as getting your EMT certification and becoming a Charge EMT can be a multi-year process.
Interested Cadet Members should fill out a Join Now form.