Positions
Positions
Positions for Everybody
We are in constant need of new members to become Emergency Medical Technicians (EMTs), Paramedics, and Firefighters. We are also in need of people who have expertise in bookkeeping, clerical, mechanical, and other related areas.
Training and uniforms are provided free of charge. No prior experience is required.
Not sure if membership is right for you? Contact us to schedule a ride-along. You will be granted an opportunity to ride on an EMS unit and observe WVRS crews in action on 911 responses.
Emergency Medical Technician (EMT)
After you are accepted, you will join the rescue squad as a probationary member. You will move up the ranks as you complete Level 1 and later on, Level 2 training.
Level 1: Co-Pilot
Level 1 consists of learning the basic skills that are necessary to begin riding the ambulance. You will be allowed to ride the ambulance after you have completed your Level 1 training. This typically takes 2-3 duty shifts to complete. As a new co-pilot, you will demonstrate your ability to perform assigned duties around the station, including answering business and emergency phone calls, receiving dispatch information, and reporting for duty on time. After completing in station training, you will be tested on your ability to obtain vital signs, operate the ambulance cot, and locate equipment on the ambulance. You will attend classes on CPR, Cultural Diversity, EEO/AA and the Law, and Blood borne/Airborne Pathogens. After demonstrating the necessary skills and passing a short written test, you will have completed your Level 1 training and may begin riding the ambulance.
Level 2: Aide Person (Charge EMT)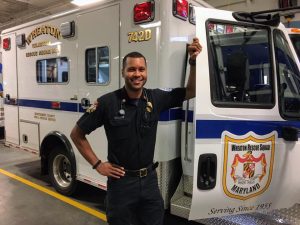 Achievement of Level 2 is required within one year of joining WVRS. The first part of Level 2 is signing up for the Emergency Medical Technician (EMT) course, which takes anywhere from 3-6 months to complete and is held at the Montgomery County Public Safety Training Academy (PSTA). After graduating from EMT class you will demonstrate your skills in the station and pass a WVRS administered written test. After passing Level 2, you will be voted in at a monthly business meeting and begin riding the ambulance as the Aide Person, or "Charge EMT". This is the start of your active membership which affords you the full privileges of WVRS membership.
After you complete your Level 2, you may choose to pursue additional training opportunities such as paramedic, firefighter, or emergency vehicle driver.
Firefighter
After you have taken EMT class and passed your Level 2 test you are eligible to sign up for the Firefighter 1 class, also taught at the PSTA. In station training includes the use of hydraulic rescue tools ("Jaws of Life"), high angle rope rescue, and continuing to hone the skills learned in class. After completing further in-station tests you will be allowed to ride the heavy rescue squad in the 4th position, or supplemental staffing.
From there, you will take a Rescue Technician class to learn more about technical rescue site operations and vehicle extrication. Following the completion of the class and an extensive practical evaluation, you can qualify to ride the Rescue Squad as minimum staffing.